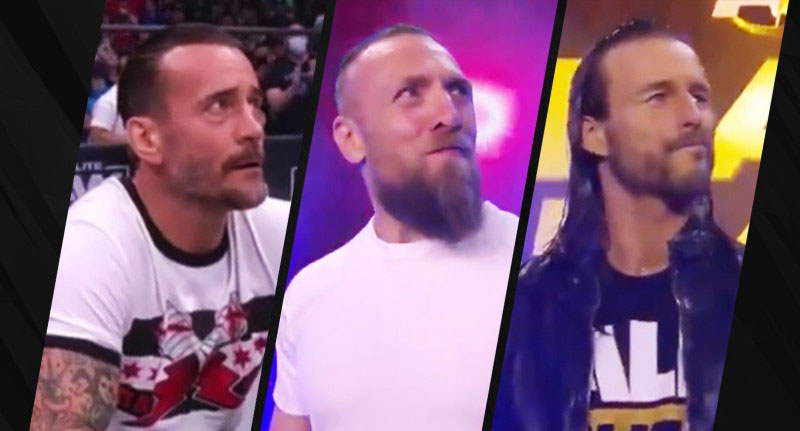 In spite of all the criticizing and clowning I do on AEW, I don't hate them at all.  Quite the contrary, I support their existence, as an alternative to the WWE that I do more than my fair share of criticizing and clowning on as well.  It's just that I don't always understand what AEW is doing, or can't really seem to grasp the ideas that they may or may not have in mind for the near to distant future.
Sure, CM Punk basically broke the internet on the night he emerged as All Elite, and as big of a fan of the wrestler he was during his time in WWE, he hasn't wrestled in seven years.  Plus, the world kind of got to know him a little bit better during his time away, and I'm not going to say I full-on soured on the guy, but I am a little more skeptical about his general attitude and outlook on things, seeing as how Twitter was kind of the only thing he utilized to not completely disappear from the public eye, and few things really go well with Twitter.
And then they pair him up with Darby Allin, who is clearly on the hydra of protected AEW originals, along with MJF and Jungle Boy.  Maybe I was just raised on too much Vince-WWF, but his scrawny stature and 1998 persona don't really do it for me, so the idea of a CM Punk and Darby Allin scrap was about as appealing to me as finding out a friend is a little more right-wing than you might have thought.
But obviously, the main topic of this post is that when the All Out revealed both the debuts of Adam Cole and Daniel Bryan Danielson, in non-wrestling capacities, no less, the first thought that popped in my head was, what the heck is AEW going to do with all this massive influx of talent? 
Going back a little further, they were all too willing to pick up Aleister Black when the WWE let him go, and this was after they had plucked Christian out of retirement, not long after bringing Rusev into the fold and renaming him Miro.  Suffice to say, AEW has been more than willing to fill their roster full of a lot of the talent liberated by the WWE, but again, my thoughts wander to wondering what they can do with all this talent, because a promotion can have all the talented creative in the world, but they're still at the mercy of the clocks of available television time.
Continue reading "What's AEW going to do with all this talent?" →