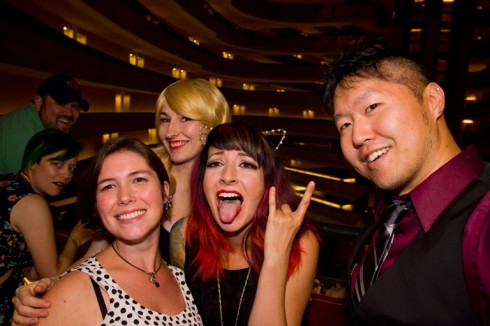 In spite of all of the mad rushing and hard work put into the weeks and days prior to the coming of this year's D*C, there was a surreal moment on Sunday morning when I woke up, and thought to myself, "is it really Sunday already?"  Needless to say, the weekend quite literally felt like it flew by way too fast, and there was that melancholy feeling of wanting to see as many people as I could during the day, and to empty out my cooler as expediently as possible before the end of the convention.
And after feeling like I had too tiny a number of photos taken on Saturday, I really wanted to spend a good chunk of Sunday doing what I really enjoy doing the most; simply walking around and taking pictures.  Eventually the daylight hours gave away to night, and as has been something of a thing I've enjoyed doing, felt the compulsion to dress nicely.
Really, I just wanted to wear my wingtip shoes, that there is probably zero photo evidence of anywhere out there, but if I was going to wear wingtips, I needed to dress accordingly to match it.  Which brings us to the suit vest and tie.  I LIKE TO DRESS NICE, OKAY?
I know there's nothing I can really do about it if you choose not to (except maybe shop some genitalia on your pictures), but I would kindly ask:
no direct linking to my pictures

if you use any of my pictures please don't crop off my credit

if you use any of my pictures on Facebook, a request to tag me, for I like to see when people share my stuff