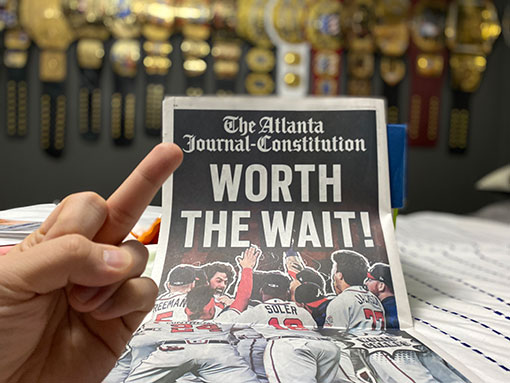 By the graciousness of my nanny, whom I excused from being on time to check at a QT for me, was she able to procure a reprint of the November 3rd commemorative Braves World Series victory edition.  This, was the highlight of my day.
So, I'm happy that I got the one thing that I had really wanted to commemorate the joyous occasion of the Braves reaching the top of the mountain and getting to be World Series champions, a sight and notion that is still hard to digest two days later, but I'm still peeved at just how hard it was to get a small piece of history to remember it by.
I'm pretty sure there's something in the Constitution that says something along the lines of that news shouldn't not be available to those who seek it, and it's a stretch, but the AJC, whether it was deliberate or stupidity, suppressing production of the one and only obviously high-demand edition of their shitty paper, I would interpret as being fucking unconstitutional. 
As relieved as I am to have my own edition, predictably, the well-publicized high demand for these editions has created the dreaded and insufferable secondary market for them, and I've seen them on Facebook Marketplace going for at least $10 a pop, and mythical wife, after hearing me bitch and moan about it the night prior, spied some on eBay, going for around $27 a pop.
I'm not going to be a hypocrite about it, because I've definitely purchased extras of things before, with the intent of trying to flip them.  But whenever I've done that, that makes me an asshole, and what people are doing with these fucking AJCs, are making them assholes too.  I'm just glad that I didn't have to pay a second-hand price for this, although I would have done so in order to get one.
The irony is that, it's not even that good of a commemorative edition.  The AJC's aesthetics and design has always been sixth-rate as far as major market newspapers go, and this commemorative edition doesn't do the Braves justice.
The newspaper industry took a lot of flack over the last few decades over many publications taking cost-cutting measures and eliminating photographers, and instead tasking reporters to take pictures on iPhones.  I don't know whether or not the AJC was one of those publications, but based on the shitty photo quality of my collector's edition, I'm inclined to believe they are.
The photos are out of focus and have been enlarged way past the original resolution, and whatever staffers they have pretending to be graphic artists apply a bunch of high-pass filters to try and sharpen them, but instead make them look all posterized and pixelated.  I'd almost be embarrassed to actually display it after I frame it, but it will eventually become artwork for lack of a better term.
Anyway, I'm just glad I got my copy regardless of all the bullshit and hoops that had to be done in order for it to happen.  I just wish what seemed like a simple thing didn't have to become such a joy-suppressing ordeal.
Fuck the AJC.