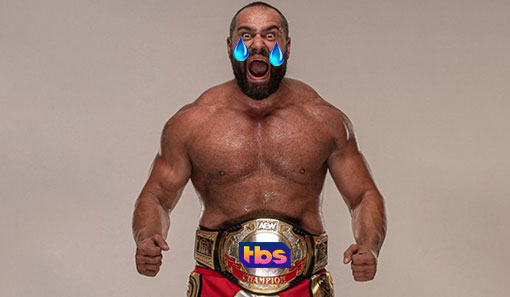 Man, my post about how I was finally happy with something AEW did didn't even get to be pushed off of the front page before AEW had to go do something that basically devalues it pretty much entirely.  Barely a week later, Turner Broadcasting announces that AEW's flagship show, Dynamite, is going to be moved from TNT to TBS.
Something or other about how Turner secured the television rights to broadcast the NHL, and that they wanted to use TNT to broadcast their games, which would have to force a live program with a static timeslot onto another network as not to force it to have to flex on a whim in accordance to the hockey schedules.  And of course AEW has other "shows" like the internet-only Dark and Elevation programs that I've never watched a single episode of, and supposedly another program coming in the near future, but make no mistake, Dynamite is the flagship, and when the flagship is moved, we are saying that AEW is being moved outright.
Initially, I laughed heartily at this news, because it kind of validates all of the passive swiping and criticism of the promotion as a whole, since they don't have the clout or justification to be cemented on TNT and force other programs to flex around them, validating them as the network sidepiece or flavor of the month that I pegged them as, and that for all the big talk and paper accolades they tout, they're still getting bullied around like a minor league racket.
But then my next train of thought was obviously the TNT Championship, which was recently won by Miro whom I've been high on for years, and how suddenly sad I am for him that after finally beginning to rise back up to the success I always knew he could be, he's immediately now the sucker holding the belt that has a literal clock above its own relevance, seeing as how the tentative plan is to move AEW off of TNT in 2022.
It doesn't even matter how much prestige Miro can bring to the belt with a lengthy reign, multiple defenses and quality work, because it has that stupid TNT logo on it, representing a network that doesn't even want them on it.  Frankly, it doesn't matter if they redesign the blet (again, which would be #4) to not have a company logo on it, or rename it outright in preparation for the network switch, it's still going to have the stink of the silliness brought onto it because AEW can't seem to get their shit together to make some appropriate decisions for their promotion that don't have time-sensitive repercussions.
Naturally the big question is what's going to happen next to the TNT Championship: will it just be updated to not have the TNT network logo on it?  Does it become the TBS Championship?  Does AEW unveil a TBS Championship and crown a champion, to then have a unification match with the TNT champion?  Or does AEW grow a fucking brain and turn it into a Television or United States championship and not associate it to a fucking television network before AEW gets moved onto TruTV or Turner Classic Movies?
Hopefully, Miro can come out of these three football fields of shit not too worse for wear, because I'm sad for him that he has to be the unfortunate soul to have to carry the Popeye's title across the bridge of uncertainty.  I'd rather have seen Darby Allin be the guy to have to do it, but writing it out, maybe it was a plan all along, considering AEW's puzzling protection over Allin's character, so may as well have one of those former WWE guys do the heavy lifting instead?
Regardless, this is all just one big amalgamation of failure, and no matter how much spin Tony Khan, the Elite circle jerk, TNT, TBS or Turner executives can apply to this whole situation, it will always conclude with AEW looking dumb and weak, and tied down to that secondary tier that doesn't put it anywhere in the stratosphere with competing with the WWE, no matter how much they pretend like they're not trying to compete with them.
Not to further toot my own horn, I did write about the perils of naming a belt after the network it was on, in the event of this exact scenario, but here we are: AEW is being forced off of TNT, and now the TNT Championship is basically meaningless.