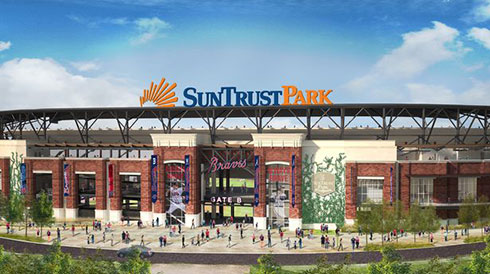 Long story short: The Atlanta Braves break ground on their new ballpark, slated to open in 2017.  It's new name?  SunTrust Park.
I love the Braves.  I hate SunTrust.
What I'm dealing with here is a perfect conflict of interests.  A catch-22, if you will.
A little backstory: I used to work for SunTrust corporate.  Making signage, assets, collateral materials; all sorts of marketing materials that the company used at their over 3,000 branches across the eastern seaboard.  It wasn't a glamorous job, but it was for a reputable brand, paid decently, and I worked with some decent people.  After about three years, the company decided that in-house designers were unnecessary, and is so often the case, felt that they would rather pay external companies way more money for the same services, but minus the obligation to pay for benefits.  So they outsourced myself, eight other designers, two copywriters, an editor, among 1,100 other employees throughout the entire company in 2007.
Continue reading "The epitome of "not mad, just disappointed"" →